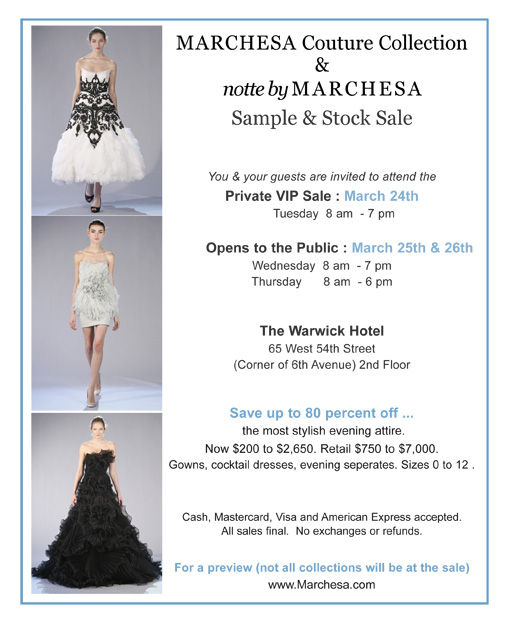 Who: Marchesa and Notte by Marchesa
What: Up to 80% Off. Gowns, dresses and evening separates were $750 - $7,000, are now $200 - $2,650. Sizes 0 - 12. Cash and credit, no exchanges or refunds.
Where: The Warwick Hotel, 65 West 54th Street, corner of 6th Avenue, 2nd Floor
When: March 24-26, 2009. Tues &Weds, 8am - 7pm. Thurs, 8am - 6pm.
Who: Sweet Tater Vintage Warehouse Sale
What: Twice a year we clean house and, ALL VINTAGE CLOTHING & ACCESSORIES $5-$50 & for the first time in the mix are select Sweet Tater Collection pieces for $50.
When: Starting Today! 12PM - 7PM Daily (closed Mondays)
Where: 280 Mulberry Street (b/n Prince & Houston)
Who: Emanuel Ungaro Sample & Stock Sale
What: Women's ready to wear, handbags, shoes and jewelry from the Summer 2008 Collection. Sizes 0-10. Prices now 75% off.
Where: 12 W 57 St(b/n 5th-6th Ave)212.247.2239
When: March 25-26, 2009. 10am - 7pm
Who: Sari Gueron
What: 80-90% off past-season dresses (resort and fall). Tops are $80 (was $650)
When: March 24-27, 2009. Daily 11am—7pm
Where: 133 W 25th St between Sixth and Seventh Aves (212-792-2258)
Who: Anna Sheffield Jewelry Lines: Anna's Bespoke, Bing Bang, and Fine Collections
What: Discounts including "a set of three Chain Egg bangles in brushed brass, yellow gold, and silver for $118 instead of $295, a Rosary bracelet of gunmetal chain, jet horn, and gunmetal beads and bullets for $39 instead of $195, an Anchor Drop necklace of sterling silver mixed chains and silver anchor with jet bead details for $106 instead of $265, and Open Oval earrings in silver for $48 instead of $120. Additionally, one of a kind, bespoke pieces will be available as well at discounted prices."
When: March 26-27, 2009. 12pm-7pm
Where: 153 Lafayette Street, 4th Floor, at Grand Street, 212.925.7030
Who: DDCLab
What: 80-90% Off on the casual clothes
Wheb: Now Through April 4, 2009.
Where: 7 Mercer St., nr. Howard St. (212-226-8980); M–S (10–7), Su (12–6).