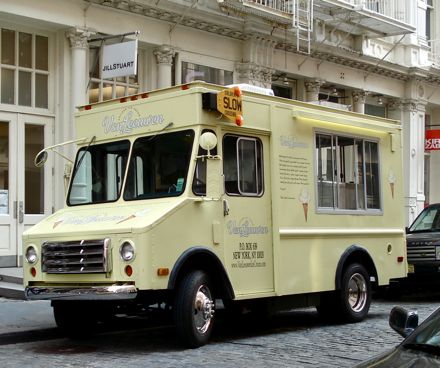 photo courtesty of
snackish.com
When you are an up and coming designer you need a bit of creativity to get you noticed. Think about how Kenneth Cole created a "fake production company" in order to have a space to show his wares to buyers! Designer Michelle Williams (not the actress), of
Quail
, will be pairing her love of fashion with her love of ice cream in order to show off her line.
According to
WWD
:
She's arranged with Brooklyn's Van Leeuwen Artisan ice cream to have a truck make stops outside Bryant Park and Milk Studios on Sept. 11 from 2 to 4 p.m. Models in Williams' Fifties pinup-inspired looks (sweetheart dresses, bustiers and motorcycle jackets) will be taking orders for cups and cones. As a smaller label that is not doing a show or presentation, Williams explained, the truck is "a great way for us to be where the action is." (In other words, lure them with ice cream.) And she added, "I guess I am hoping for hot weather. That would be ideal.
"
I love ice cream and I applaud Williams creative approach, but I somehow get the feeling that members of the fashion set might not actually eat ice cream I hope for her sake though that she gets some attention whether or not the editors swallow will still remain to be seen.