So after McQ, you may be wondering who's next for Target's Designer Collaboration, that features more established design talent. Well it's official,
WWD
just announced that Anna Sui is on board and will be launching in stores and Target.com on September 13, 2009.
Guess we're not the only ones who find Gossip Girl to be our guilty pleasure! Anna Sui has declared the 4 girls to be her "Muse" for the collaboration.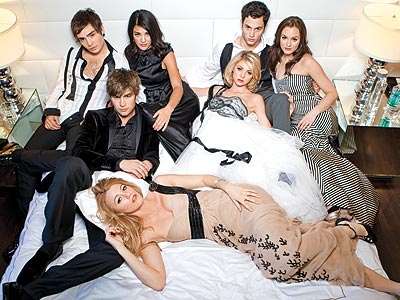 Sui tells
WWD
,
"I have always been a fan of designer partnerships with mass retailers. I think it is a great way to bring fashion to everyone. I love Go International and was intrigued with Target's new take on designer partnerships. It's a fresh approach. I was able to select a muse or source of creative inspiration to focus the collection around. It is an exciting challenge to try and interpret my aesthetic into a mass-produced product with a specific inspirational source as the focus...I liked the idea of creating a collection reflective of each characters' style, sensibility and unique approach to fashion. By combining the elements of art, city, spirit, punk and glamour, we created a collection that exudes New York City fashion.
"
Sui used materials such as metallic jacquards, herringbone, silk and chiffon and detailing with tulle, lace and sequins.
Can't wait to see what's in store for us in September!